Welcome to Grand Lucayan Bahamas
Grand Lucayan Bahamas - Freeport - Grand Bahama Island
Imagine a place where lush green lawns stretch toward powder-soft white sand.
Coconut palms sway in a fragrant breeze and crystal-clear turquoise waters lap gently along the shore. There's no impatient crowds, no rush to grab beach chairs, no boring restaurants. At Grand Lucayan, we work to strike the perfect balance between the luxuries of a modern-day resort and the magic of one steeped in Bahamian culture. For us, it's about delivering an experience that exudes authenticity yet welcomes the creature comforts that make traveling a pleasure and a passion.
This is the Bahamas at its laid-back best. It feels real because it is. It's the Bahamas you remember, wrapped in a resort you'll never forget.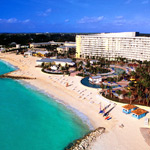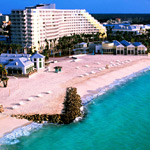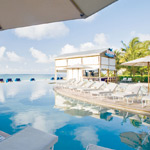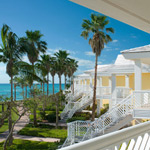 Activities
What's your perfect day in the Bahamas? We're guessing it includes things like lingering over dinner, listening to a local steel drum band with an authentic Bahamian beat and venturing a little off the beaten path to discover the charms that first captivated pirates, privateers and plantation owners. Whether you came to swim with dolphins or go on a shark fishing expedition, sharpen your swing or fine-tune your culinary palate, you'll find Grand Lucayan your perfect Bahamian base.
Beyond our impressive oceanfront setting, which features three swimming pools, a challenging golf course and four tennis courts (try the grass court), we stand ready to introduce you to the real Bahamas. Snorkel at mystical Deadman's Reef; explore one of world's longest underwater caves at Lucayan National Park; head to the Prohibition-era rum-running port of West End or simply kick back on the beach with conch fritters and an ice-cold Sands, the local Bahamian brew. The authentic Bahamas is calling.
Enjoy our Grand Outdoors
Our beautiful tropical surroundings offer amazing experiences that you will remember forever, from encounters with wonderful wildlife to exciting explorations in the island's volcanic cave system. On Grand Bahama, the Grand Life is all around you.
Biking
Follow historic trails and discover ancient settlements. Take a leisurely tour through spectacular landscapes. Visit the fascinating Owl's Hole, an amazing inland ocean cavern named after the owls nesting there.
Horseback riding
Bring the fantasy of horseback riding on the beach to life. Enjoy romance, adventure, and stunning views as you gallop and trot along the sparkling shoreline.
Beaches/Watersports
Enjoy a range of fun, exciting water sports from our beautiful, white sand beach.
Birdwatching
Grand Bahama Island has the second-highest number of native bird species of all the 700 islands and cays of the Bahamas. The Rand Nature Centre is the perfect place for birders to start.
National Parks
Explore the three National Parks of Grand Bahama Island: Lucayan National Park, the Rand Nature Center and Peterson Cay National Park. In the Lucayan National Park you'll find the island's six ecosystems in one location.
Beaches
Be a beach connoisseur.
Paris may have the world's greatest works of art, but Grand Bahama most certainly has the world's finest collection of beaches. Take a sunrise walk down our own private Lucaya Beach. Visit Fortune Beach, where treasure hunters recently found a $2 million dollar shipwreck. Escape to complete isolated privacy in Paradise Cove at Deadman's Reef. Swing by Xanadu beach for an icy local Kalik beer and some spicy local BBQ... Or, explore Gold Rock Beach at Lucayan National Park, which is known to many connoisseurs to be the most spectacular beach of all.
Immerse yourself.
When you're smack dab in the middle of a Caribbean aquatic wonderland, its easy to become a bit amphibious here. Go for a lazy afternoon swim (think 80º water temps), kayak through the mangroves of Gold Rock Beach or dive for lost Spanish treasure at Deadman's Reef. Feeling a bit more adventurous? Join the local Underwater Explorer Society and frolic with wild Dolphins at an offshore reef. Need more thrills? Grab your courage and sign up for one of the island's legendary shark-feeding tours. You'll come home with photos and stories to last a lifetime!
Casino
Try your luck at Treasure Bay
Grand Bahama's Vegas-style casino
Located just a few steps from the resort, the Treasure Bay Casino is a thrilling Vegas-style adult playground with tables, slot machines and tournaments. There's plenty of action 24 hours a day in over 35,000 square feet of playing space, including 400 slot machines and 30 gaming tables for craps, blackjack, roulette, three-card stud poker and mini-baccarat.
he Player's Club offers cash, hotel and meal incentives, with exclusive member-only discounts and invitations to casino special events. For entertainment there's Club Cove, a cabaret lounge that's fast become one of the hottest nightspots on the island, with dancing, theme events and a Thursday dinner show.
Golf
COMPLETE FREEDOM
Every golfer dreams of playing in the perfect setting. The beautiful backdrop of Grand Bahama Island makes Grand Lucayan one of the most spectacular places to tee off in the world. This is as near as you'll ever get to a golfer's paradise so it's no surprise that 'The Golfer' magazine rated our resort one of the top 100 around the globe.
Designed by foremost golf architect Robert Trent Jones Jr, our superb 18-hole, par-72 championship course caters for players of every level. Beverage carts guarantee your comfort throughout the course with refreshments and snacks. Experience the Grand Life on the greatest of courses.
Tennis
Grand Lucayan Tennis School - Improve your Stroke Develop Techniques! Offering private and group lessons for all ages from beginners to advanced levels.
Spa
Refresh mind and body at our Senses Spa & Fitness Center
Relax, recharge and enjoy the Grand Life with some well-earned pampering at our state-of-the-art Senses Spa & Fitness Center. Our extensive ocean front facility includes a full-service spa and fitness center, top-quality equipment, trained professional staff, a salon and a spa boutique.
Revitalizing spa treatments
Experience our exotic, island-inspired treatments and restore your sense of calm, while we detoxify, purify, soften and pamper your body. Our fragrant body wraps and essential oils facial treatments rekindle your natural glow. Release your energy flow with the ancient healing techniques of a Swe-Thai Massage. If you want to refresh your sun-kissed skin, add a little island spice to your life with traditional Bahamian healing herbs or simply enjoy a classic massage to soothe tense muscles. Our full menu of spa treatments has everything you need, submerged massages, rain massages and hydro baths in seaweed, sea salts or algae are all available.